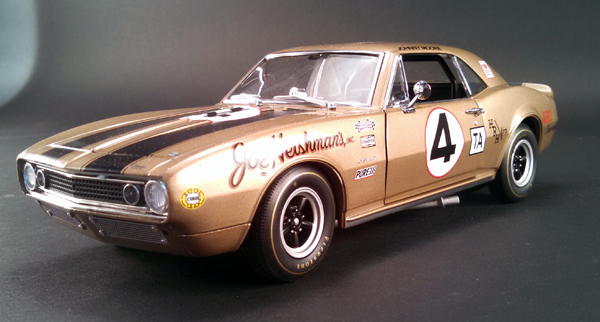 Price $99.99
was $134.99

In Stock
ACME (#A1805703) 1/18 Scale


#4 1967 Chevrolet Camaro Z/28 - The First Z/28 Ever Made!
• opening hood, doors, and trunk
• wired and plumbed Z/28 engine
• poseable steering
• race seat and roll cage
• dash tachometer
• serialized plate
• racing steering wheel
• racing exhaust
• limited edition of 996 pcs

John Mello stumbled across the holy grail while looking at a local Camaro for sale for a friend. After seeing the car and noticing a few tell tale signs of its previous life, he made an offer to buy the car and the rest, as they say, is history. John immediately began removing the paint and discovered racing stripes and lettering from days gone by. He began researching period race cars and ran across a photo from 1967 of a former racer, Johnny Moore, climbing into what appeared to be the same car! He found the old driver and was able to determine that it was indeed his car from 1967. The VIN number confirmed it was manufactured on December 29th, 1966, a day before other models were made. The first Z/28 ever made! John decided to restore the car to its glory day as a tribute to its racing heritage roots.