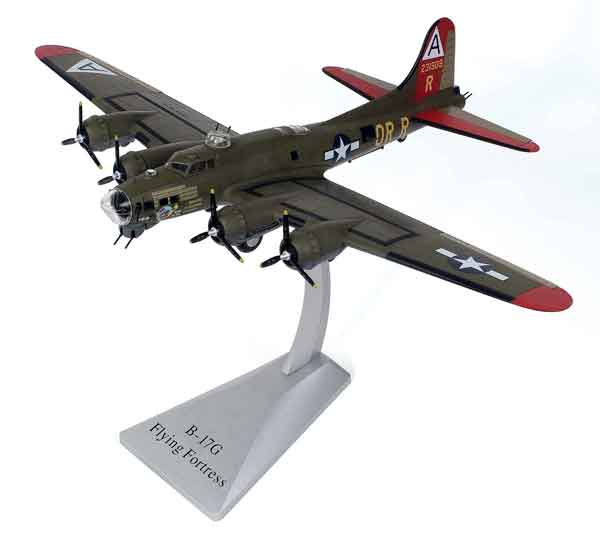 OUT OF STOCK



Air Force 1 (#0110A) 1/72 Scale



B-17G Flying Fortress - 323rd BS, 91st BG "Nine-O-Nine" RAF Bassingbourn, England, 1944

First delivered to the 91st Bomb Group on February 24, 1944, the soon-to-be prolific B-17 Flying Fortress bomber — named for the last three digits of her serial number — immediately got to work, flying her inaugural mission the following day. By the end of the war, "Nine-O-Nine" had flown 140 combat sorties (believed to be a "Mighty Eighth" record) without losing a single crew member. She also flew at least 126 consecutive missions without aborting, also believed to be a record. While she was scrapped after the war, the Collings Foundation has an airworthy B-17 Flying Fortress currently painted in commemoration of the legendary bomber.

Impressively sized at nearly a foot and a half in wingspan, this 1/72 scale die cast replica of the recognizable bomber features that aircraft's signature nose art and accents, engraved panel lines, a glazed nose and canopy, a well-equipped interior, rotating propellers, a realistic gunner station, opening bomb bays with munitions, optional-position landing gear, authentic markings, and a mid-flight display stand. Measures approximately 12¼" long with a 17¼" wingspan.