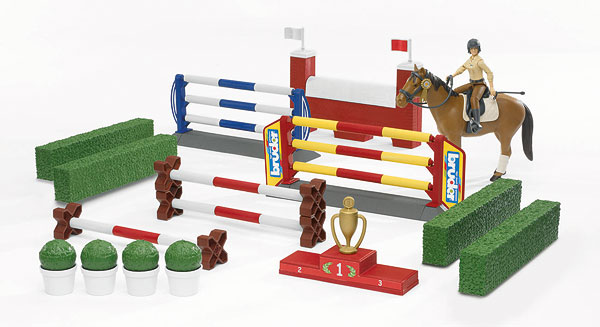 Price $44.99
MSRP $57.99




In Stock





Bruder (#62530) 1/16 Scale



Great Horse Jumping Course with Woman and Horse - Bruder's Bworld Series
Set includes:
• 1 horse and figure
• 4 hedges, 2 obstacles
• Winners podium
• Wall obstacle
• 3 cavaletti X-shaped stands
• Saddle, bridle, 4 horse boots
• Riding crop and hat
• 4 potted plants, trophy and rosette

One of the equestrian disciplines is show jumping. Show jumping allows you to experience from close up the potential of the intimate bond between horse and rider. The set contains everything for a real show jumping course. The wall, the oxer, cavaletti obstacles. The show jumping course is also adorned with hedges and plant tubs. The show jumping can get underway immediately after the obstacles have been put into place as the rider and horse with saddle are also included in the set. Once the obstacles have been successfully cleared there is nothing left to prevent the rider collecting the trophy and rosette on the winners podium.

Manufactured from high impact ABS plastic. Made in Germany.