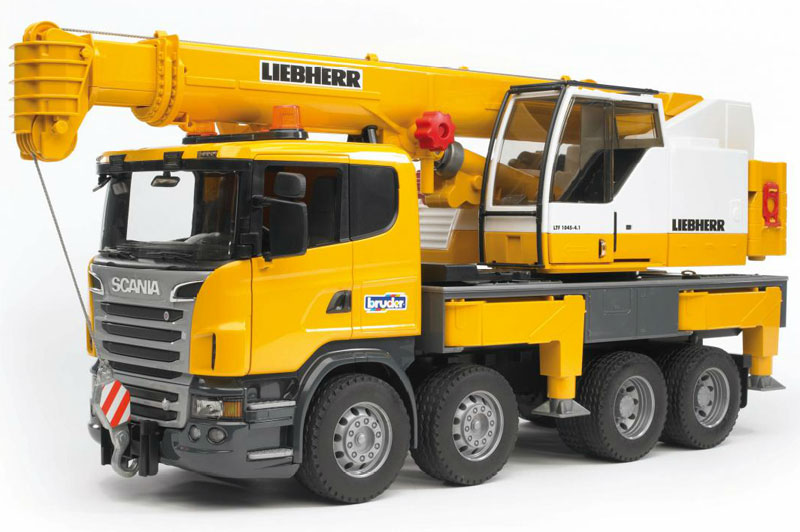 Price $104.99
MSRP $134.99




In Stock





Bruder (#03570) 1/16 Scale



Scania R-series Liebherr crane truck with Light and Sound Module

ITEM TOO LARGE FOR GIFT WRAP Features Include:
• Counterweight can be fixed with a holding bracket and filled with sand or gravel
• Crane boom can be extended as one piece with an adjusting knob
• Crane body swivels 360°
• Door slides open
• Four adjustable stabilizers that swing out
• Realistic tire tread
• Fully functional cable reel with specially developed overload protection
• Light and sound bar features engine noice, horn, flashing lights siren. Siren can be set to European or American siren sounds
• Perfect for indoor or outdoor play
• Compatible with Bruder's Pro Series, BWorld figures, and Ertl's Big Farm Toys
• Manufactured from high impact ABS plastic
• Made in Germany

The impressive Liebherr crane truck literally towers above the rest! When the telescopic length is extended, the crane truck is already of considerable height and can be extended even further with an additional boom. Our small customers will be impressed because when the crane boom is at full length with the additional attachment and fully raised, it is over 4 feet high and will tower above some of the little builders. Given the size, it must naturally also be stable. A high level of stability to prevent the crane truck tipping over is achieved with the swivelling and individually-adjustable support legs of the vehicle platform. For even greater stability, the installed counterweight can be used – just like an original crane. To ensure it is heavy enough, it can be filled with sand. BRUDER's slogan `multifunctional´ is particularly evident in this model. A newly developed cable winch with a locking device and overload protection make it very easy to get to grips with the crane hook, even when lifting and lowering large parts.