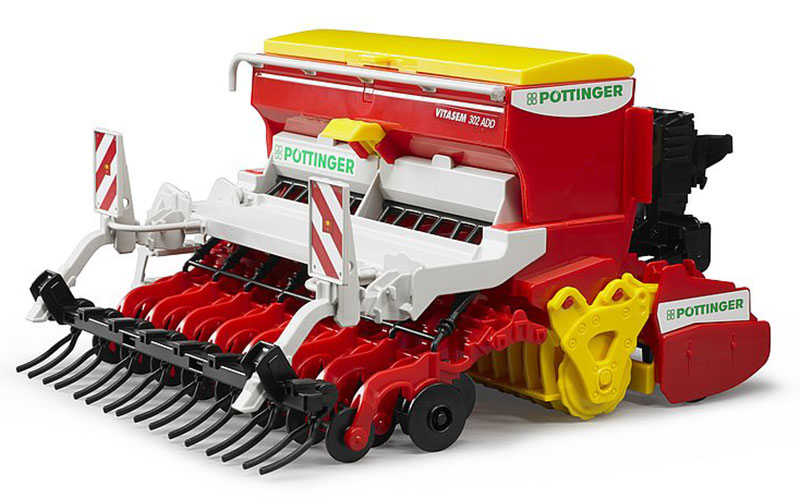 Price $41.99
MSRP $52.99




In Stock





Bruder (#02347) 1/16 Scale



Pöttinger Vitasem 302ADD Harrow-Mounted Seed Drill
• Manufactured of High-Impact ABS Plastic
• Fold-Down Stairs
• Seed Tank can be Opened

The Pöttinger Vitasem 302ADD combined rotary harrow and sowing machine is used in agriculture for soil tilling and excels at metering the seeds in a particularly swift and exact manner. Sowing with higher precision and achieving greater yields during the harvest is at the heart of this combined unit made by Pöttinger. The model made by Bruder sports an attachment interface which makes it possible to use the combined rotary harrow and sowing machine with all tractors that are part of the product line. Allowing them to raise and lower the unit, the integrated hoisting mechanism lets the children accurately simulate the real-world transport and working position. The optional toy figures offered by Bruder can climb onto the combined unit using the fold-down stairs in order to, for instance, open the seed tank. Work can begin as soon as the tank is filled, the combination is hitched up to the tractor and the outlet valve is open. Scores of details bring out the visual effect of this toy, allowing the children to play in an even more realistic way.