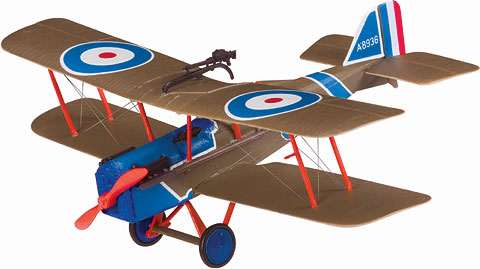 Price $49.99




In Stock





Corgi (#AA37702) 1/48 Scale



RAF Se5a - Capt W.A. Billy Bishop, Royal Flying Corps, No60 Squadron, Summer 1917
From the Aviation Archive - New Casting
Aviation Archive represents a myriad of detailed die-cast models designed for the true enthusiast, depicting both military models from famous battles and sky warfare over the last 100 years, and civil aircraft, which have frequented the flight paths of countries worldwide.

The Royal Flying Corps top-scoring WWI ace was Billy Bishop, a Canadian who scored 72 victories. Awarded the Victoria Cross, he was the first pilot to surpass the record of British ace Albert Ball. McCudden, Ball, Bishop, Mannock and many other British aces found the S.E.5a was, at last, the aircraft they could fight on equal terms with against the German Albatros. Soon after they were delivered, Lieutenant A.P.F. Rhys Davids, flying with No. 5 Squadron, brought down Werner Voss, von Richthofen's famous number two. Although just a single victory, it was an enormous boost to Allied morale and an early scalp for the S.E.5a, which, despite its rugged, almost over-simple appearance, was destined to become one of the most successful British aircraft of WWI.