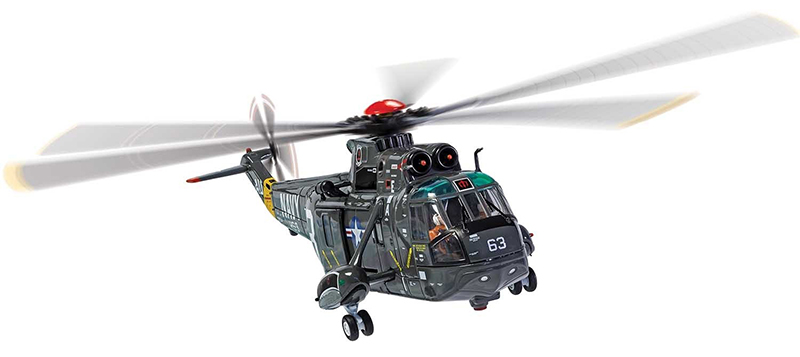 Price $71

.99

MSRP $95.99


Add to Cart


In Stock





Corgi (#AA33422) 1/72 Scale



Sikorski SH-3A Bu.No 152134, HS-3 'Tridents', USS Guadalcanal, July 21st 1966

If the intrepid pioneers of flight inspired the world with their determination to achieve manned, powered flight in the years before the First World War, then a similar fascination was surely held for the men engaged in the US Space Programme during the 1960s and 1970s. Millions of people would be glued to their televisions as mighty rockets blasted men into space, with everyone holding their breath until the astronauts safely returned a few days later and the sight of their protective space capsule splashing down in the ocean. Quickly rescued by specially trained US Navy helicopter crews, it would not be before pictures were broadcast of the returning astronauts waving at the gathered crowds that people would finally relax, knowing that another giant step had been taken towards putting a man on the moon. Assigned as the lead recovery helicopter for the Gemini X mission, handsome Sikorsky SH-3A 'White 63' from US Navy HS-3 'Tridents' was on the scene seconds after the capsule splashed down, with its specialist diver ensuring the safe extraction of the returning astronauts. With the world's attention fixed on this latest mission, for a few short moments, the live broadcast of the recovery made this aircraft the most famous helicopter in the world, before it returned to USS Guadalcanal as America's latest spaceman transporter. After its time in the limelight, the aircraft would return to its usual anti-submarine patrol duties.