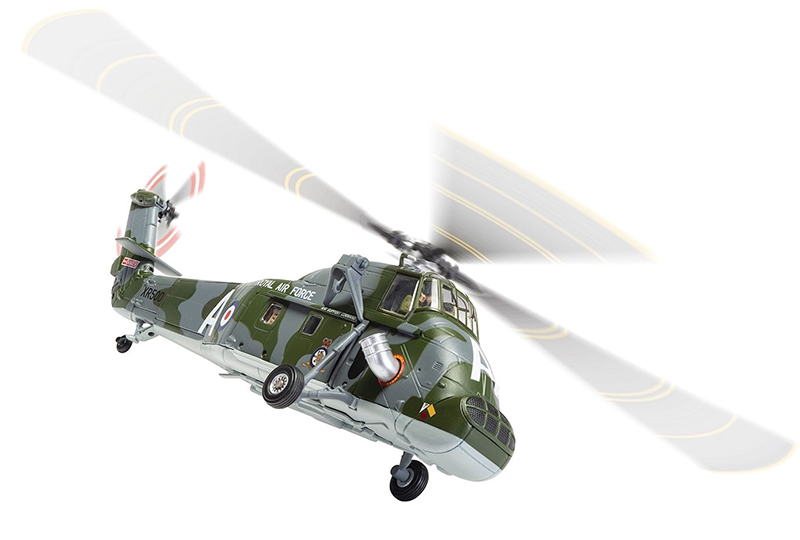 Price $84.99
MSRP $113.99




In Stock





Corgi (#AA37611) 1/72 Scale



Westland Wessex HC.2 XR500/A - RAF No.78 Squadron, Sharjah, Trucial States, 1970

The Westland Wessex HC.2 was a licence built turbine powered development of the classic American Sikorski S-58 Helicopter, one of the world's first truly capable helicopters and one which finally established these aircraft as amongst the most useful for both military and civilian applications. XR500 was one of a batch or 4 HC.2 helicopters delivered in advance of the type's acceptance into RAF service and was used by the Wessex Intensive Flying Trials Unit at RAF Odiham, in preparation for its squadron introduction. It was later one of the founding aircraft of the re-forming No.18 Squadron, the first operational unit to receive the Wessex HC.2, in January 1964. It would later join No.78 Squadron and from 1967, operate from the vital overseas base at Sharjah in the Trucial States (now part of the United Arab Emirates) where, in conjunction with other RAF units, it would help to ensure the ongoing stability of the region. Wearing this particularly attractive scheme, these hard working helicopters would transport troops and supplies around the region, whilst also being on hand to provide flexible airborne support whenever called upon. XR500 was written off in April 1979 when it crashed into Hong Kong harbour, whilst undertaking a winching exercise in poor weather – thankfully, the crew all survived the experience.