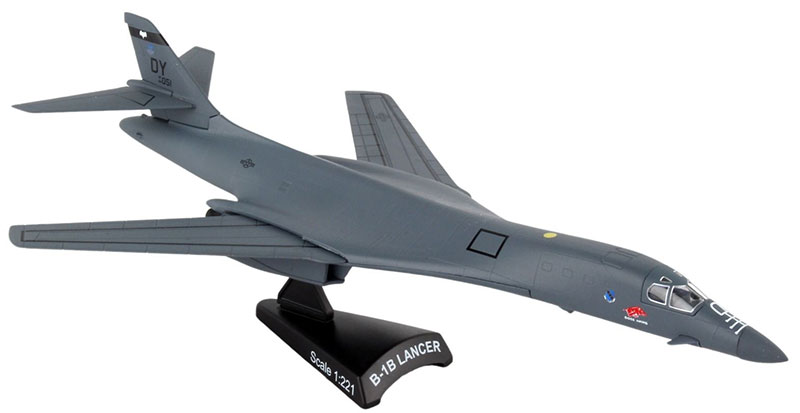 Price $25.99
MSRP $29.95




In Stock





Daron (#PS5404-2) 1/221 Scale



B-1B Lancer - Boss Hawg - USAF
Postage Stamp Collection

The Rockwell International (now Boeing) B-1B Lancer is a four-engine, supersonic, swing wing, jet powered, heavy strategic bomber. Used by the United States Air Force, it is primarily a low-level penetrator. The B-1B has long range capability and travels at high altitude with speed of Mach 1.25, and at low level speed of Mach 0.92. The B-1B celebrated its first flight on December 23, 1974 and became operational in 1986 with USAF Strategic Air Command as a nuclear bomber. In early 1990s B-1B fleet was reassigned to Air Combat Command and aircrafts were converted to use conventional and all-weather guided "smart" munitions. Its first combat mission occurred in 1998 during Operation "Desert Fox" in Iraq. In 1999 it was again deployed to support Operation "Allied Force" in Kosovo. Commonly called the "Bone", derived from "B-One", the B-1B holds 61 world records for speed, payload and distance. And while inventory of the B1-B was reduced from 91 aircraft, 67 still remain in service, and are expected to continue service until 2030. B-1B Lancer named "Boss Hawg" Tail# 84-0051 is 10th B-1B produced. This Die-cast metal airplane model comes in 1:221 scale with plastic stand.