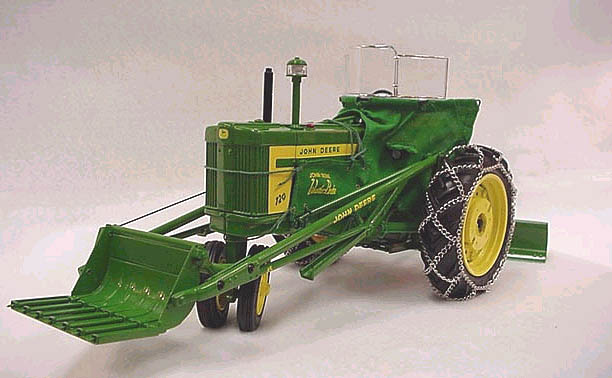 OUT OF STOCK



ERTL (#15165) 1/16 Scale



John Deere 720 Nf with Loader and Rear Blade Precision #18
Discontinued in 2003

In 1956, John Deere replaced the 50, 60, 70 family of tractors with the "20" Series, that incorporated numerous advancements in design and engineering. The 720's 376-cubic inch two-cylinder engine set a new record in fuel economy, owing to refinements in its fuel system and design.
This 1:16 scale Ertl replica pays homage to those who brave the worst of winter conditions. This masterwork of craftsmanship is hand-assembled from more than 380 pieces. A canvas heat shield shrouds the engine compartment, and the platform of the replica includes spring-loaded pedals and moveable levers. Just to the right of the platform is an operational trip lever that releases the bucket for dumping. The bucket and the simulated hydraulic arms are operational. The blade's mounting frame pivots 360-degrees, and includes a carrier link for locking the blade into position. Authentic metal tire chains complete the seasonal picture.