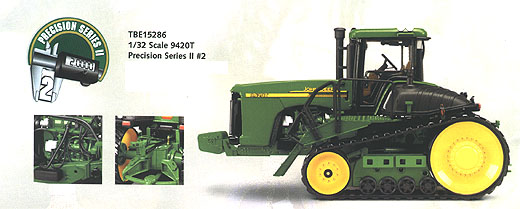 OUT OF STOCK



ERTL (#15286) 1/32 Scale



John Deere 9420T - Precision II Series #2
Discontinued in 2005

The Ertl Precision Series II replicas are 1:32 scale die-casts replicating the enormous contemporary machines of today, but in a scale that is ideal for your display shelves. This handsome showpiece is hand-assembled and includes a list of authentic working features that sets it apart from other replicas this size.

You will be able to enjoy:
Opening hood,
Opening grille,
Opening left cab door,
Turning steering wheel,
Moveable front and rear wipers,
Swinging drawbar hitch,
Rotating bogey wheels, and
Free-rolling tracks.
In addition, each replica includes a gold-plated medallion and poster and is boxed in series-specific packaging.