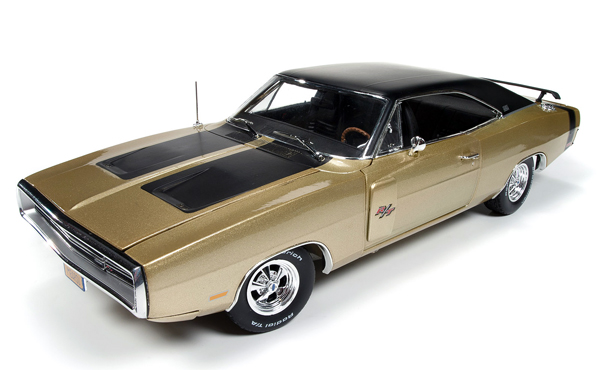 OUT OF STOCK



American Muscle (#1077) 1/18 Scale



1970 Dodge Charger R/T 50th Anniversary Edition in Gold

Features:
• Detailed 440 Six-Pack Engine
• Steerable Front Wheels
• Accurate Interior, Chassis & Trunk
• Heavyweight Die-Cast Metal
• Opening Doors & Hood

For over 50 years, Dodge Charger has been one of the most popular and iconic muscle cars. With its bulging rear fenders, it carried on the distinctive Coke-bottle styling trend utilized by many other makes and models. For 1970, the styling changed slightly. The front grill became a large piece of jewelry surrounded by brightwork, and the grill lost its center divider to extend the full width of the car. Covering the scallops on the doors were large scoops bearing the R/T badge. This die-cast replicates FY4 Light Gold Poly, which was available for one year only. This heavily-optioned die-cast also features a CRXA black and charcoal leather interior, V1X black vinyl top, V8X black bee stripe, V21 black out hood treatment and a J81 rear spoiler. Under the hood is a 440 Six-Pack. It's truly American muscle at its finest!