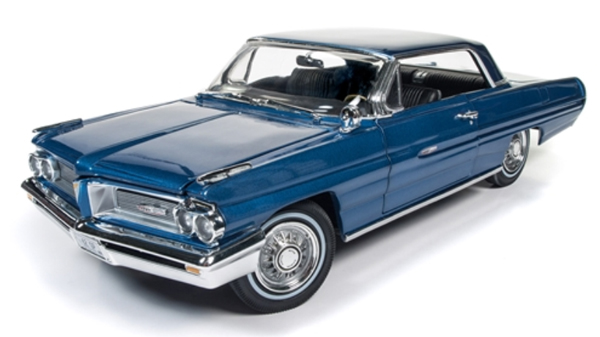 OUT OF STOCK



American Muscle (#1122) 1/18 Scale



1962 Pontiac Grand Prix in Ensign Blue with Black Interior

• Opening Doors & Hood
• Detailed Engine
• Steerable Front Wheels
• Accurate Interior and Chassis
• Heavyweight Die-Cast Metal

The first Pontiac® Grand Prix™, released in 1962, was based on the Catalina™ coupe, but with less chrome trim, an updated, stylized grill and distinctive headlights. The myriad of options available assured that anyone's luxury and performance expectations could be met. For more muscle car appeal, the Grand Prix™ interior was outfitted with bucket seats, padded instrument panel, tachometer, and a host of other interior features. Engine options included the standard 389 V8, two high-output 389 engines, a 421 'street' version, and the pricey 421 four-barrel Super Duty that yielded 405hp. Auto World has faithfully replicated the rarest 1962 Pontiac® Grand Prix™ – the 421 Super Duty – in factory Ensign Blue paint with stock 8-lug wheels. Only 16 of these actual cars were ever produced, and only a handful exist today.