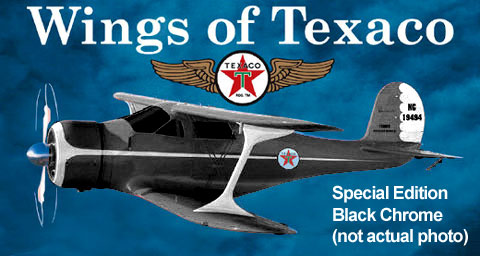 Price $129

.99


Add to Cart


In Stock





ERTL (#21426P) 1/38 Scale



Texaco - Wings Of Texaco #12 (2004) - SPECIAL EDITION - Chrome Black - Bank
Beachcraft "Staggerwing" - Purchased by Texaco in October of 1941, this beautiful Beechcraft D17S was a 5-seat, equal span, single bay biplane. It was driven by a powerful 450 HP 9-cylinder radial, air-cooled Pratt and Whiney Wasp Jr. engine. The plane's nickname "Staggerwing" comes from its trademark, sleek back-staggered wings.