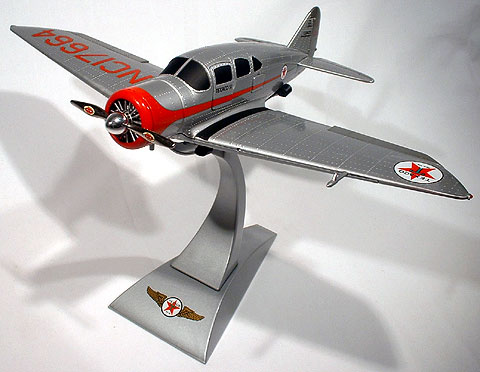 Price $89

.99


Add to Cart


In Stock





ERTL (#21750P) 1/27 Scale



Texaco - Wings of Texaco #14 (2006) - Regular Edition
1935 Spartan Executive 7W T51 Airplane
This historical 1/27 scale replica features: working "prop", retractable landing gear, posable wing flaps, opening storage bay and opening side door reveals coin bank slot. Each airplane comes with a tilt action display stand, certificate of authenticity and custom package.

Powered with a Pratt & Whitney 450 h.p. Wasp, Jr., the model 7W "Executive" is a closed, low-wing, all-metal monoplane designed in 1934 and first produced in 1935. It has proved exceptionally popular with business concerns and individuals who wanted air transportation of the high performance class.
The Spartan Executive was a true aviation legend. Built to the luxurious tastes of the rich oil "Executives", it rivaled in comfort to the most opulent limousines of the day. In performance, it was second to none, cruising at a remarkable 200 miles an hour and with a range of over one thousand miles. Even though the Spartan Executive was an aircraft which was created during the years before WWII, its design was replicated repleatedly in postwar aircraft. As evidence of it's durability TEXACO Spartan #51 is still flying today and is owned by a private citizen of Chicago, IL.