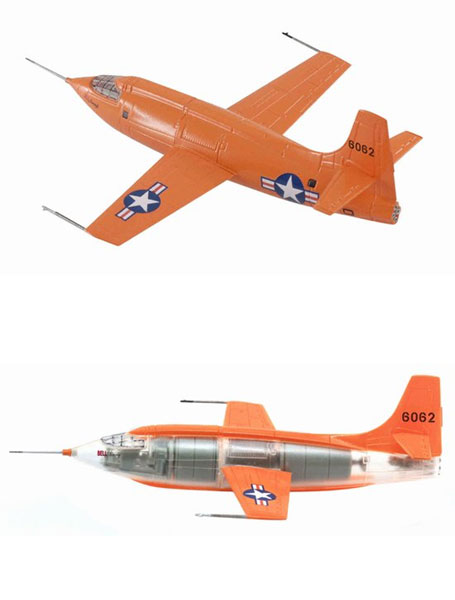 OUT OF STOCK



Dragon (#51021) 1/144 Scale



Bell X-1 "Sonic Breaker" 1+1
The X-1, built by Bell, was the first of the highly secretive American "X-planes" that tested out new technologies. Indeed, the X-1 was the very first aircraft to break the sound barrier in level flight. Development started in 1945, and it was inspired by the shape of a Browning .50-cal machine gun round that was known to be stable in supersonic flight. Essentially, the Bell X-1 was a bullet with wings, propelled by a four-chamber rocket engine.

This truly is a fine 1/144 scale model of the Bell X-1. The set features:
2 complete X-1 aircraft models:
The first is a standard replica of this supersonic craft
The second has a transparent fuselage that shows off the "innards" of the unique X-1.
Both are fully built-up and finely painted models
They also come with a sleek display stand made of metal that allows both models to be displayed "flying" together.

This is an impressive set, and with two models and the stand included , it offers unbeatable value!