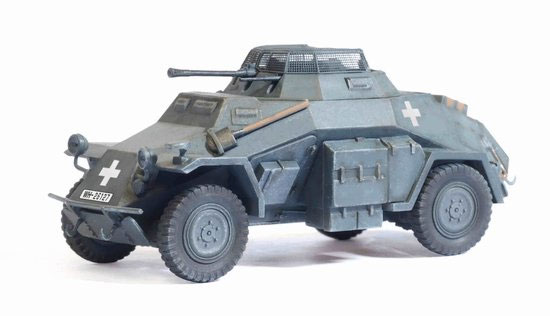 OUT OF STOCK



Dragon (#60423) 1/72 Scale



Sd. Kfz.222 Leichte Panzerspähwagen, Poland 1939

To support its mobile concept of modern warfare, Germany introduced a wide range of tracked and wheeled armored vehicles. One wheeled family of vehicles introduced in 1936 included 4x4 armored cars known as the Leichter Panzerspähwagen, which translates as "Light Armored Reconnaissance Vehicle." Powered by a Horch engine, these vehicles were based on a Horch 801 heavy car chassis to which an armored body was added. It was armed with a 2cm KwK.30 L/55 cannon and MG34 machine gun in an open-topped turret. A crew of three operated the Sd.Kfz.222. In early-war campaigns such as the invasion of Poland it performed well as a reconnaissance vehicle for panzer divisions.

Following the initial success of a 1/72 scale Sd.Kfz.222 model, Dragon Armor now introduces a second vehicle. As before, the model has a superb level of detail. But this time it bears markings such as white crosses that were worn by vehicles fighting in Poland in 1939. Dragon Armor's fully assembled Sd.Kfz.222 possesses all the detail expected of such a model. For example, the mesh screen covering the open-topped turret resorts to a photo-etched part to ensure it's true to scale. The gun muzzle, too, is realistically hollowed out. The vehicle is finished in an accurate shade of 'panzer gray' camouflage paint from an unidentified unit in the Polish campaign.