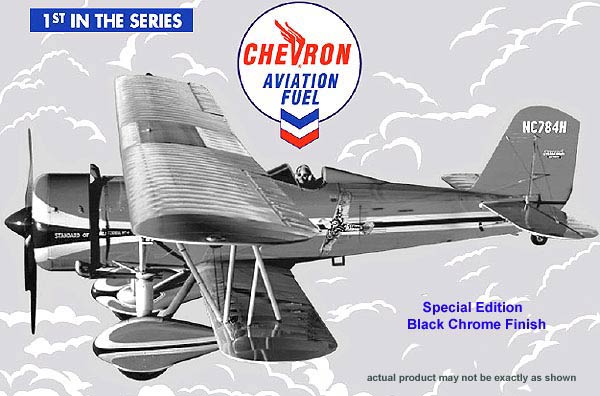 Price $74.99




In Stock





ERTL (#21436P) 1/38 Scale



Chevron Airplane Series #1 (2004) - 1930 Stearman 4E SPECIAL Edition (Black Chrome Finish)
Highly Detailed Diecast Metal Bank with Landing Gear and Rotating Propellers - FIRST in a NEW SERIES

When Charles Lindberg flew the Atlantic in 1927, he recognized that the gas produced by Standard Oil was a superior product and would give him more range per gallon, thus he ordered 500 gallons sent to New York and this was the fuel he used for his very famous flight. Standard Oil quick to take advantage of their fame ordered three very special airplanes to be built to their specification based on the Stearman 4E design, these aircrafts were more expensive than the most expensive Duesenberg ever built and were positioned in Seattle, San Francisco and Los Angeles. They were built for salesmen who flew, and appeared at many air shows, gave rides, and enabled the pilots to cover 10,000 mile per month in sales calls. The product was now marketed under the name Stanavo and included oil, gasoline, as well as other aviation related products. There was a specification board created to insure the continued high quality of products that Lindberg had so aptly recognized. This effort and these special aircraft were instrumental in making Standard Oil a world leader in the aviation world and was an exciting chapter in the development of the Chevron effort. r> DISCONTINUED - Get them before they are gone...