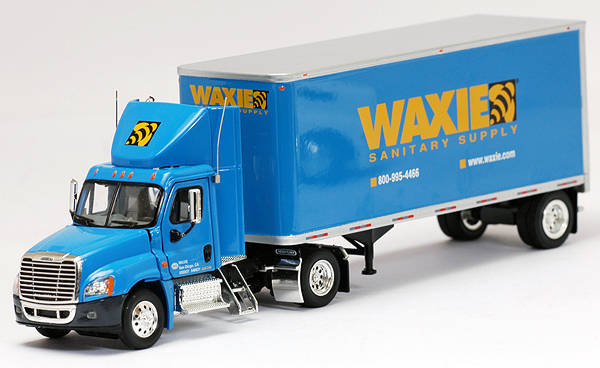 Price $59.99




In Stock





Tonkin (#P0631330) 1/53 Scale



Waxie Sanitary Supply - Freightliner Cascadia Day Cab in Blue with 28' Van Trailer
America's Largest Family-Owned Distributor of Sanitary Supplies
In addition to technological advances, recent trends include going "GREEN," with products that not only have a low impact on the environment, but keep the worker's health in mind.
In 2009 Charles Wax ensured that the two most recent "new" WAXIE facilities were constructed as LEED® Silver Certified — a benchmark for the design, construction, and operation of green buildings. Charles had inherited his father's flair for doing the right thing and setting the bar high for industry firsts.
Today, WAXIE's marketplace continues to grow, and in March 2010, the company acquired 5 Star Sanitary Products with locations in Colorado Springs and Pueblo, Colorado.
WAXIE Sanitary Supply has enjoyed tremendous growth over 65 years by serving and adjusting to the needs of the customers, investing in technology, and by constructing the finest facilities in the industry. But it is truly the loyal employees behind the scenes who understand the WAXIE way. These are the people who are dedicated, who care, and who benefited from the veterans who went before them. These are the folks who have passed down the "secret" code of conduct, and who have embraced a unique and distinctly American opportunity, to call WAXIE home.
WAXIE Sanitary Supply employs over 800 people and is still family owned.
"We don't plan on changing things that work. We need to stay responsive to our customers' needs and focus on the future. We are willing to continuously invest in the future – in our people and our facilities, and new innovative products and technology." – Charles Wax.